With camping season on the way, my thoughts turn to one of my most favorite things – campfires! While I'm most definitely NOT a camper, I have to admit that I love to sit around a nice hot fire on a cool evening. And being in Wisconsin, regardless of the season, there's certainly no shortage of evenings where the temps are low enough to start up a blazing fire.  That being said, I'm in love with the idea of s'more party favors – for a wedding, a party, a camping trip, you name it. Who doesn't love that ooey, gooey melted mess squashed between two sweet & crispy crackers? Okay, so maybe a few of you aren't a fan. But for those of you who share my love of this sinfully delicious treat, check out these tasty ideas. Quite possibly my favorite is this s'more kit featured on Elizabeth Anne Designs – what a fun treat for adults and kids alike!
Of course, how can you resist this very cool 'tower of treats' …
 Or you may prefer to package your treats in a festive bag such as those shown below. Create your own packaging or order these fabulous kits from U + U Design!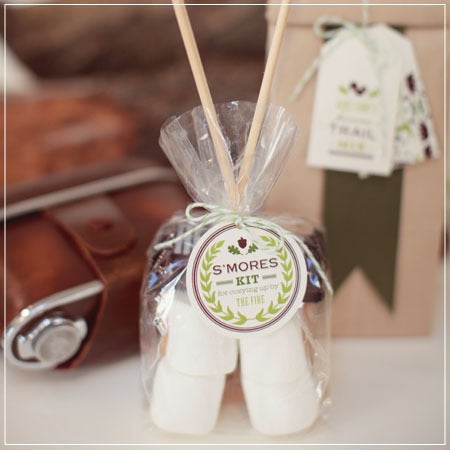 Not interested in the assembly? Set out a buffet of s'more fixings and let your guests build their own!
Whether you're opting for individually packaged treats or a build-your-own buffet, take it up a notch by incorporating gourmet chocolates with homemade marshmallows and graham crackers.  YUM!